I received a facebook message from Paula Lynch Keogh, an Irish American.  She has the Vanity Fair Spy print of O'Connor Power on her sitting room wall –  and a family connection.
Paula's father, Joseph Lynch, shared a story with his children.  Her great- great- grandmother, Catherine O'Connor (1822-1866), married Ayre Duffield in Ballinasloe 11 January 1849.  They lived in 60 Society Street, with an office and yard in Bolgers Lane.*  Their daughter, Jane Duffield Lynch (1852-1915) was Paula's great-grandmother.  Jane talked of her 'half-brother', John O'Connor Power, who lived with her family when she was a child. They stayed in touch and, on his visits to the United States, O'Connor Power visited her in Andover, Massachusetts.
Ayre Duffield (born in England) was a 31 year old baker from Banagher when he married Catherine Carthy in Ballinasloe Registrar's Office. His father, William Duffield, was also a baker.** Catherine Carthy, formerly O'Connor, a shopkeeper, was a twenty-eight year old widow. Her father, Pat O'Connor, was a farmer. The witnesses were Peter Dunne and Michael Cogan.
The Valuation Office holds records of Society Street. In 1860, Catherine Duffield was living at 60 Society Street. In 1861, the Valuation Book, 'revised April 1861', has the name Catherine Duffield crossed out and replaced by a Charles Nangle. Catherine's death certificate is dated 17 January 1866. She was forty-four years of age and a widow.  She was still living in Society Street and her daughter, Jane Duffield, was present at her death.
There was an economic depression in Ireland in the early sixties and many emigrated to find a new life.  O'Connor Power went to Lancashire and took up a trade in house painting, while recruiting for the Irish Republican Brotherhood. His brother, Thomas, three years older, joined the British army. Catherine Duffield's daughter, Jane, moved to the United States and is  listed in the 1870 census as a lodger in the home of Robert Power, a 28 year old painter. She is working in a local textile  mill in Chelmsford, Lowell, Massachusetts. She was later married locally by a Justice of the Peace.
In his biography of Father Patrick Lavelle, Mayo historian Gerard Moran describes O'Connor Power as 'middle class'.
*Griffith's Valuation. The house was valued at £13, the office and yard at 5 shillings. Andrew Banfield, an attorney, was the landlord. In the 1901 census, John Nangle, baker, is living in 30.1 Society Street. He has a sixteen year old son, Charley.
** William Duffield, Baker, Main Street, Banagher, is listed in the 1823 Commercial Directory and the 1846 Slater's Directory. Banagher was a thriving market town, twenty miles from Ballinasloe. It was on the mail car route and on the Grand Canal line to Dublin.
Paula visited Ballinasloe with her husband last year. She has sent me some photographs of Society Street and Bolgars Lane.
Society Street, June 2015.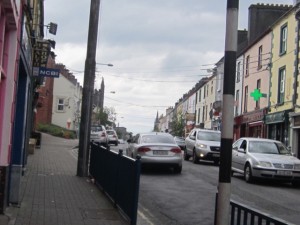 Bolgers Lane. Site of Duffield bakery on the right.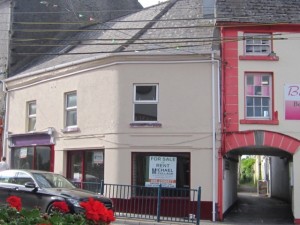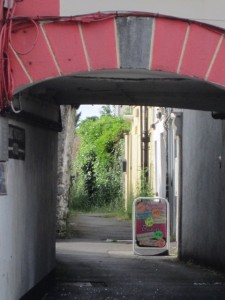 Site of Mary O'Connor Duffield's shop and home to That Irishman in the 1850s.